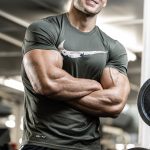 Artsem Kandra
COST / SPECIAL OFFERS
£45 / hr per session

£400 - 10 Sessions
£750 - 20 Sessions
£400 - Online Coaching (8 Weeks)
SPECIALTIES
Building Muscle

Fat Loss

Strength Training

Conditioning

Nutrition
SKILLS & QUALIFICATIONS
My name is Artsem Kandra of Infinite Physiques® and I'm a Personal Trainer and Online Coach based in East London. I welcome all levels

so whether you're a complete beginner or prepping for a show

I've got you covered. I help clients achieve their goals through tailored training programs

custom nutrition plans

keeping them super motivated

whilst having fun at the same time!